We offer a variety of high-quality hard cover and soft cover binding options.
Covers can be digitally printed in color or they can be made from cloth or leather.
Sizes
Standard sizes are portrait sizes of 5.5" x 8.5", 6" x 9", 7" x 10" and 8.5" x 11", but other formats, including landscape and oblong, are available. Sizes are based on finished size of book. The final trim size of text will always be smaller than the finish size of the book.
Graphic Covers
Eye-catching 4/0 printed graphic covers can be laminated with gloss, linen or matte lamination. Printed full-color covers are produced from a file that you provide. Your file should include the front cover, spine, back cover and wraps. Use our on-line template to assist with the layout, design and size.
Cloth and Library SUMMIT ™ Covers (hard cover only)
Custom die-stamped cloth covers can be produced on a variety of materials. Options include multiple foil colors, mounted pictures and debossing.
Library SUMMIT™ covers are also available in the following colors: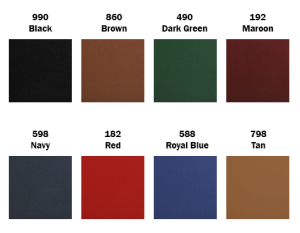 Additional Options
Head and tail bands, dust jackets and shrink-wrapping are also available.
Leaf Attachment Options
Leaf attachment is the process of attaching the individual pages (leaves) of a book together to form one consolidated text block. We offer various leaf attachment options, depending on the size, thickness of the book and type of printing.
PUR
Double Fan Adhesive

Side Sew
PUR
Book binding method that makes use of Polyurethane Reactive (PUR) adhesive.
PUR Binding is where the pages and cover are glued together at the spine and the other three sides of the book are trimmed as needed to give them clean "perfect" edges.
Polyurethane Reactive (PUR) is the most durable book binding glue available. It is far superior to Ethylene Vinyl Acetate (EVA) or any other adhesives used in traditional perfect binding.
Double Fan Adhesive
Text is bound by fanning the spine one way and applying adhesive then fanning the text the opposite direction and applying adhesive. Typically the spine is milled and notched prior to the fanning and applying adhesive to maximize contact of the paper to the adhesive and increase the strength of the binding.
Reinforced Side Sew
This is a permanent solution for book blocks both of coated or uncoated papers. The thread sews through the "side" of a book block, taking away 1/4″ of the gutter margin. Our limitation for thickness for this method of binding is about 3/8″. Side sewn binding will not lay flat, but will be held together very securely. We use this for children's books, photobooks, yearbooks, and many other editions which are less than 3/8″ in thickness.