All media is stored in our FIRELOCK™ media and server vault
Our vault, which is the only vault of its kind built for commercial use in the state of Ohio, is a UL certified fireproof vault that meets the following rigorous specifications:
Class 125 four-hour rating for computer media, digital records and sensitive server equipment
Class 350 four-hour rating for protecting paper documents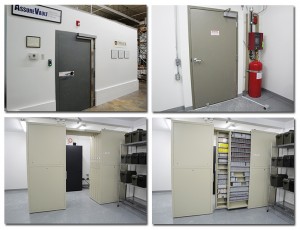 The vault's environment is controlled to exacting levels of temperature and humidity, which can add 5 to 15 years to the media lifetime. Vault conditions are monitored continuously and our managers are alerted immediately through several redundant channels in the event of any variation in conditions.
Our FIRELOCK® vault is designed with an integrated vapor barrier to ensure that high moisture levels or steam cannot penetrate the vault walls and damage backup tapes, IT equipment, historic documents, business records or other information assets stored within the FIRELOCK® vault. This design is superior to that of concrete block vaults, which retain humidity and moisture and, in the event of a fire, emit steam into the enclosure, rendering media useless.
The ceramic fiber insulating core of the AssureVault FIRELOCK™ vault is dry and inert even after withstanding the 5 hour 2000° F. UL 72 / ASTM E-119 Time Temperature Curve Test.
Our vault is magnetically shielded preventing ESM and is hermetically sealed allowing AssureVault to maintain precise offsite tape storage environmental conditions. This precise environmental control can extend media lifetime from 5 to 15 years.
Features
Some of the features of this vaulted environment include:
Access controlled by biometric fingerprint reader
Endurance test – meets NFPA 75 class 125 – four hour magnetic media and NFPA 232 class 350 – four hour rating
NOVEC 1230 Clean Agent Fire Protection System (no residue)
Climate controlled (68F, +/- 2 degrees and 30% Relative Humidity, +/- 4%)
7×24 monitoring of environment with email and pager alerts
Interruption-free power is delivered by a dedicated 48 kW natural gas generator over APC uninterruptible power supplies
Backup Power
In the event of an outage, APC Uninterruptible Power Supplies take over immediately, maintaining power to  servers and network infrastructure, as well as air conditioning and humidity control systems. Within 10 seconds, service is transferred to our Kohler 48 kW natural gas generator, which provides clean power for an indefinite period of time. The integrated Kohler OnCue Generator Management System delivers status messages and allows managers to view the real-time status of generator operation online (below).

Kohler OnCue Generator Management System