About Digitizing Services
Mortgage documentation, HR records, resumes, personnel files, student/teacher records or transcripts, invoices, accounts payable items, insurance applications, health care forms, bank records, legal documents, proof of delivery, receipts, index cards, or any other loose materials have special inherent requirements, depending on each item's condition.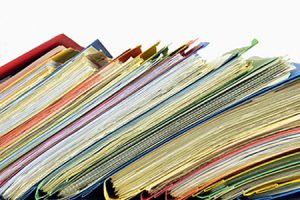 Through our ongoing investment in cut sheet and flat bed scanning technologies, we assist our customers in providing accurate capture that allows them to become more cost efficient by providing efficient access to their mission critical documents.
Some loose materials can be scanned utilizing Automatic Document Feeder (ADF) devices, others require special handling one by one on a flat bed scanner.
Items scanned for many backfile conversions (on or off site) or ongoing projects require preparation of the documents (removing staples, paper clips, "dog ears", tape, etc.) prior to scanning.
We can easily handle all scenarios to meet our clients' long term service goals with  a scanning frequency makes the most sense for improving workflow. Digital Solutions is a cost effective and valuable conduit for your company's ongoing retrieval needs and ultimate success.